Many epoxy resins and epoxy hardeners require High-Heat in order to complete the curing process since outdoor ambient air temperatures are often too low. This is especially true in cold weather conditions. If the epoxy resins and hardeners aren't cured accurately, the chemical reaction will become compromised and the cure will fail.
Heat Authority provides a wide range of heating solutions for effective epoxy resin curing in all weather conditions. Businesses that deal with epoxy and resin curing in their production / repairs processes know that it can be a very time-consuming and expensive process. Getting on and off the job quickly without compromising the chemical reaction is vital. Curing epoxy resins with Powerblanket, CureMax and RapidThaw heated wraps make the process fast and efficient.
Common epoxy resin curing applications:
Pipeline Repair
Tank Corrosion Repair
Yacht and Boat Fiberglass Repair
Wind Blade Repair
Home Repairs
Concrete Repair
Carbon Fiber Construction
The first thing to understand is that epoxy resin comes in 2 parts: (a resin and a hardener).
When these two parts are mixed according to directions, and under the right conditions, a chemical reaction occurs which causes the liquid mixture to catalyze. If the chemical reaction is somehow prevented or disrupted, a perfect cure is no longer possible, and the result is a sticky mess!
Common causes for epoxy resin curing failure:
Not Measuring Accurately. (Adding more hardener will not necessarily make the cure harder or cause it to cure faster).
Ambient temperatures too cold for curing reaction to develop.
Undermixing the ingredients.
Dirty or Wet Utensils used in mixing.
Mixing or Blending Brands together.
Resin that remains sticky days after the recommended curing duration... will remain sticky unless the following measures are taken to fix the situation.
Scrape off the wet material as best you can and discard. Be sure all the sticky resin is removed (tacky is ok)
Fill any deep divots or craters, patch in some new thoroughly mixed resin just in that spot.
Sand lightly the entire affected area. Be sure to wipe the entire surface to remove any dust from sanding. The sanding provides some tooth to the first coat so the second layer will adhere properly.
Pour A Second Coat - Obviously you need to wait until the first layer and patch are 100% cured before adding a second coat.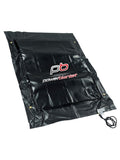 $464.00 USD
3' x 4' Multi-Duty Thawing & Concrete Curing Blanket (120V)
Epoxy resin curing most certainly has its challenges and may require post curing heat assistance. There are many approaches for post curing temperature control, but oftentimes crews are working outdoors and far from modern conveniences. Electric heated epoxy resin curing blankets are flexible, lightweight, easy to transport, hook up to most generators and deliver a high heat contact solution for almost all curing requirements.
Contact HEAT AUTHORITY @ (866) 805-4328 or
visit their curing page here: https://heatauthority.com/products/ground-thawing