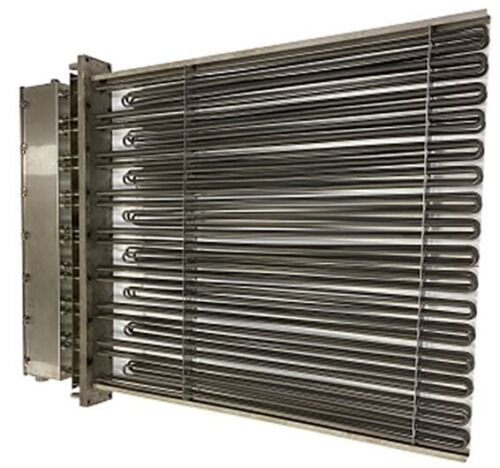 Caloritech™ High-Temperature Industrial Electric Duct Heater Model No. Volts Wattage W/in2 Weight WXL175 600V – 3Ø 175 kW 27.5 310 lbs. WXL112 480V – 3Ø 112 kW 17.6 310 lbs....
FREE
SHIPPING
100% MONEY
BACK GUARANTEE
ONLINE
SUPPORT 24/7
Availability:
18 In Stock
Caloritech™ High-Temperature Industrial Electric Duct Heater
| | | | | |
| --- | --- | --- | --- | --- |
| Model No. | Volts | Wattage | W/in2 | Weight |
| WXL175 | 600V – 3Ø | 175 kW | 27.5 | 310 lbs. |
| WXL112 | 480V – 3Ø | 112 kW | 17.6 | 310 lbs. |
Application
Caloritech™ WXL duct heaters are designed for installation in process ducts to heat air or other non-hazardous gases.
Construction
Standard heaters have replaceable "W" shaped Incoloy® elements. Multiple circuits are selected to limit the line current in each circuit. Type WXL heaters have stainless mounting plates and terminal boxes with a stainless steel element support plate.
Installation
Installation can be in any position; top, bottom or side mounting. The heater is inserted into the duct through a hole and secured with suitable bolts, studs or screws. For heavier units duct work may require reinforcement. In larger ducts, internal duct baffles may be required to ensure that the minimum air velocity passes over the elements. All process duct heater installations must include a device such as a thermocouple control or a proximity high limit cutout to limit the outlet temperature in the event of fan failure or malfunction of the process temperature regulator. WXL heaters are suitable for outlet air temperatures up to 1112°F (600°C) providing the air velocity is not less than the minimum required velocity.
Standard Features
304 Stainless steel mounting plate and frame construction

Stainless steel NEMA 4X Terminal Box

Incoloy heating elements

Lifting lug provided

The wiring connection block provided

High temperature wire leads

Integral anti-condensation heater

Built-in K-Type thermocouple for overtemperature protection when used with suitable temperature controller (on some models only – please specify)

1.5" NPT & 0.75" NPT conduit hubs provided
Special Features
Type WXL heaters are available in other sizes and ratings. Units can be supplied with duct section, fan assembly and control panel, if needed. Consult factory for additional information.
What Is A Load Bank?
A load bank is electrical testing equipment. Using a load bank, you can stimulate a full electrical load on your power source, without the risk of connecting it to its normal power source. You also don't have to expend the same amount of power. The bank receives the power back and turns it into heat. A cooling system, either forced air or water, removes the heat.
There are portable and permanent load banks. You can use a portable load bank with portable equipment or as a rental to occasionally test your equipment. If you have a large and permanent power supply, then it is best to have a permanent load bank installed to use regularly.
Who Needs A Load Bank?
Anyone who needs to test, calibrate or verify the operation of an electric generator, diesel generator, battery, or other power equipment needs a load bank. It is especially important for emergency backup systems, which will not be under regular use but still need to be tested in order to ensure they will be ready when they are needed. Load banks are used in a variety of industries, including data centers, wind farms, utility substations, microgrids, oil, gas and nuclear, government and military, maritime, healthcare, and hospitals.
| | |
| --- | --- |
| Dimensions | 80" L x 60" W x 14" H |
| Manufacturer | Caloritech |
| Freight Classification Number | 150 |
| Does this product only ship LTL? | Yes |
| Is this product returnable? | No |
| Color | Stainless Steel |
| Construction | Stainless Steel |
| Heat Range | Low-Temperature 50°F (10°C) / Max-Temperature 1,112°F (600°C) |
| Temperature Setting | Low-Temperature 50°F (10°C) / Max-Temperature 1,112°F (600°C) |
| Watts | 175,000 |
| Amps | 291.66 |
| Volts | 600 |
| Certifications | UL/CSA Safety Certified for Normal Non-hazardous Locations |
| Lead Time | 1 week |